In Memory
Danny Caputo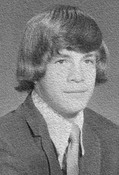 Danny Jay Caputo
1954 - 2014
DANNY CAPUTO OBITUARY
"The Wop"
Danny Jay Caputo, our loving husband, father, grandfather, son, brother, uncle and friend passed away on August 2, 2014, in Salt Lake City, Utah. Danny was born on July 8, 1954 to Eugene Antonio and Jean Keen Caputo. He married the love of his life, Camilla Gwyn March on February 14, 1996, in Salt Lake City, Utah.
Danny devoted his life to the care and love of his wife, children and grandchildren, giving all he had to the very end with a kind soul and never a harsh word for anyone. He was always there for everyone and knew just the right answer. Danny received a liver transplant on Father's Day, June 19, 2010, and was able enjoy his life with his family until his kidneys began to fail in December of 2011. Danny fought a valiant fight to regain his health for all of us, but lost that battle at home with his wife and family by his side.
Danny was a racecar driver, Nascar fan, and loved to play golf with his favorite partner, Gwyn.
Danny is survived by his loving wife and his best friend, Gwyn; his sons: Daniel, Jayson and Shawn; his daughters: April and Amanda; brother, Joe and sisters: Bonnie, Toni (Phil), Joan and 10 grandchildren, numerous nieces and nephews; father-in-law, John A. March and his brother-in-law, Vic. He was preceded in death by his parents and brother-in-law, Jack and a niece Toni.
Funeral services for Danny will be held on Saturday, August 9, 2014 at 11:00 am at St. Patrick Catholic Church, 1040 West 400 South, SLC, UT. A visitation will be held on Friday evening from 6 to 8 pm at the Larkin Mortuary, 260 E. So. Temple, SLC, UT and at the church on Saturday from 9:45 to 10:45 am prior to the services. Interment: Mt. Calvary Cemetery, 4th Ave. T Street, following the services. Please leave online condolences for the family at www.larkinmortuary.com.