In Memory
LouAnn Rushano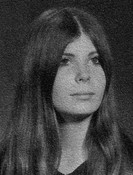 South High School
Class Of 1972

Deceased Cub: LouAnn Rushano Redick
Date Of Birth: 2-4-1954
Date Deceased: 12-20-2014
Age at Death: 60
Cause of Death: lung cancer
Cub City: SLC
Cub State: UT
Cub Country: USA
Was a Veteran: No
Survived By: husband Gary, Children: Trena, Jache, Derrick And grandchildren

LouAnn was on the Lost list. Now she is found. She and I were best friends in Jr High.We liked going rollerskating.