In Memory
Christine (Chris) Megalonakis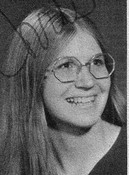 Dorothy Christine Megalonakis
10/30/1953 ~ 6/5/2012
Our beloved sister, aunt and friend, Christine Megalonakis, passed away in her sleep Tuesday morning June 5, 2012. Christine was born October 30, 1953 in Salt Lake City, Utah to Christo and Dorothy Megalonakis.
She is survived by her brother Mike Megalonakis, sister Katina Romero, nieces Kristina (Chris), Monique, and Melissa (Dave), 3 great nieces and 1 great nephew.
Christine was an avid reader, had an energetic passion for life and a great love for helping people. She enjoyed a good hard day of work, always spoke highly of the people she worked with and was always concerned with their happiness and well being. She touched many lives and will be greatly missed and remembered as one of the greatest!
There will be a small wake for immediate family and close friends on Sunday, June 10, 2012 from 6:00 8:00 pm at 1106 South Glendale Drive (1440 West), Salt Lake City, Utah. Directors Independent Funeral Service.