In Memory
Vicky Mead (Haning)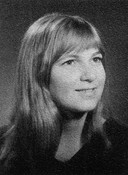 Vicky Lynn Gittins-Haning
1953 ~ 2016
Our loving wife, mother, grandmother and sister Vicky was called home on February 4, 2016 surrounded by her loving family.
Born December 28, 1953 in Bakersfield, CA to Jack and Maydabeth Mead. Graduated from South High School in 1972. She was an employee of O.C. Tanner for 25 years and was a member of the LDS Church. She was a devoted mother and gave her children a wonderful life.
Vicky loved to travel anywhere and with anyone. She also loved to crochet, read books and going out to eat. She was an avid clock collector. She will be greatly missed and always in our hearts.
Survived by her husband Devon, son Dallas, daughter Tawny, granddaughter Vanessa, mother Maydabeth, and her 6 sisters. Preceded in death by her baby daughter Monica, father Jack, and sister Carol Ann.
A Celebration of Life will be held Tuesday, February 9, 2016 at 3274 S Hillsdale Dr (2760 W) from 12-2 pm.
Published by The Salt Lake Tribune on Feb. 7, 2016.
Vicky Lynn Gittins-Haning
1953 - 2016