In Memory
Kathie Lillie (Hancock)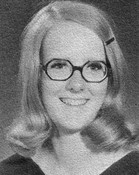 Kathie Rae Lillie Roach Hancock passed peacefully to the arms of her husband and loved ones on 6/20/2014 surrounded as always at home by those she loved so dearly.
Kathie grew up in Salt Lake City, spent part of her adulthood in Bountiful, UT and then moved back to Salt Lake near her sister. She graduated as an LPN in 1975, went on to get her RN degree and loved the people and staff she associated with. She worked the past 30 years in the University of Utah hospital operating room making many deep friendships.
Kathie is a member of the Church of Jesus Christ of Latter Day Saints and served in many callings in all the auxiliaries. For the past nine years she served as an ordinance worker in the Salt Lake Temple, her most cherished calling. It helped her grow a deeper gospel testimony and healed her broken heart from the passing of her beloved husband, Don.
If Kathie were asked what she was most proud of in her life it would be her son, Dennis and the wonderful man he has grown into. Second her daughter-in-law, Ashley and grandchildren, Natalie, Marcus and Piper for all the love they daily gave.
Funeral services will be held on Thursday, June 26th at 1:00pm at the Cottonwood 4th Ward, 5565 Neighbor Lane (1610 E). A viewing service will be held June 25th at Larkin Mortuary, 260 East South Temple, Salt Lake City from 6:00pm to 8:00pm. Also one hour prior to funeral services at the Cottonwood 4th Ward. Interment will be at Lakeview Memorial Cemetery, 1640 East Lakeview Drive, Bountiful. Please leave online condolences for the family at www.larkinmortuary.com.