In Memory
Nonalee Evans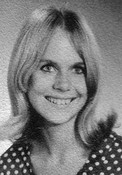 Nonalee Evans
***To Know Her Is To Love Her***
Nonalee Evans, age 55, passed away Nov. 2, 2008, at the home of her sister, after a valiant struggle with Breast Cancer. She was born in SLC on Sep. 18, 1953 to Norman and Beverlee Johnson Evans.
Nonalee attended South High and earned a nursing degree from SLCC. Nonalee worked as a nurse for many years at Salt Lake Clinic and the Taylorsville Clinic and was loved by her patients, doctors and staff. She had many friends and enjoyed her time with them. Nonalee loved life! She treasured her children and grandchildren and spent a lot of time with them. Scrapbooking for her grandchildren was her most recent hobby. She loved her family.
Survived by her parents; children, Charice (Kelly) Workman and Daniel (Chandell) Caputo; grandchildren, Tyler, Zak, Markaylee, Evan and Antonio; brother, Scott (Teresa) and sister, Mickeleen (Joe) Thomas; nieces, Michelle, Ashley, Lennon and Julia; nephews, Tyler and Matt; and 2 great-nieces, Ava and Stella.
Funeral services will be held on Wed., Nov. 5, 2008, 2:00 pm at Redwood Memorial Mortuary, 6500 South Redwood Road, West Jordan. A viewing will be held Tues., 6-8 pm at the mortuary and 1 hour prior to services. Interment to follow.