In Memory
Steve Bartholomew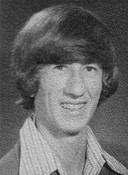 Steven Ray "Steve" Bartholomew
BIRTH

Salt Lake City, Salt Lake County, Utah, USA

DEATH

15 Jan 2011 (aged 56)

Howell, Livingston County, Michigan, USA

BURIAL
Steven Ray Bartholomew was born in Salt Lake City on November 8, 1954, and passed away on January 15, 2011 at Willowbrook Rehabilitation Center in Howell, Michigan from complications of an accident in 1994.

Steve graduated from South High School and was active in sports. He particularly enjoyed softball and golf with his nephews and brothers. Steve was loved by many and will be missed.

Steve was predeceased by his parents Glen H. Bartholomew and Eva Irene Brown Bartholomew, brothers "Jumbo" John, Larry, Dick, and sisters Donna Rainaldi and Joann Bartholomew. Steve is survived by former spouse Mary, his sons Tyler and Jordan, his sister Janice (Tom) Soter and brother Dennis (Yvonne) Bartholomew, in-laws Tony Rainaldi, Fresno, California; and Lucille Bartholomew, Salt Lake City, as well as several nieces and nephews.

Gravesite gathering will be held at Mount Olivet Cemetery at 12:00 p.m. on Tuesday, February 1, 2011.

Published in the Salt Lake Tribune on January 30, 2011.